Make the Most of Your School Emergency Relief ESSER Funds with Modular Classrooms, Campuses and Administrative Buildings
At the height of the COVID-19 Pandemic, Congress passed three stimulus bills for Coronavirus response and relief that provided nearly $190.5 billion to the Elementary and Secondary School Emergency Relief (ESSER) Fund. The funds aim to provide relief and economic security to public, nonprofit private, and charter K-12 schools to help them create safe learning environments for students in-person and virtually, address learning losses caused by the pandemic, and support students' mental health.
The U.S. Department of Education outlines that there is "considerable flexibility in determining how to use ESSER funds." Many districts have used these funds as an opportunity to make critical infrastructure, technology, and equipment investments that will impact their students now and for generations to come.
Modular classrooms, modular campuses, and modular administrative buildings are great ways to spend ESSER Funds for updated and cutting-edge learning environments in less time than traditional stick-built construction by way of modular construction. While Pacific Mobile Structures offers standard modular solutions, we also offer our award-winning SAGE Classrooms and our newly released SAGE Campus, built on features and benefits customers have come to know and love about the SAGE Classroom.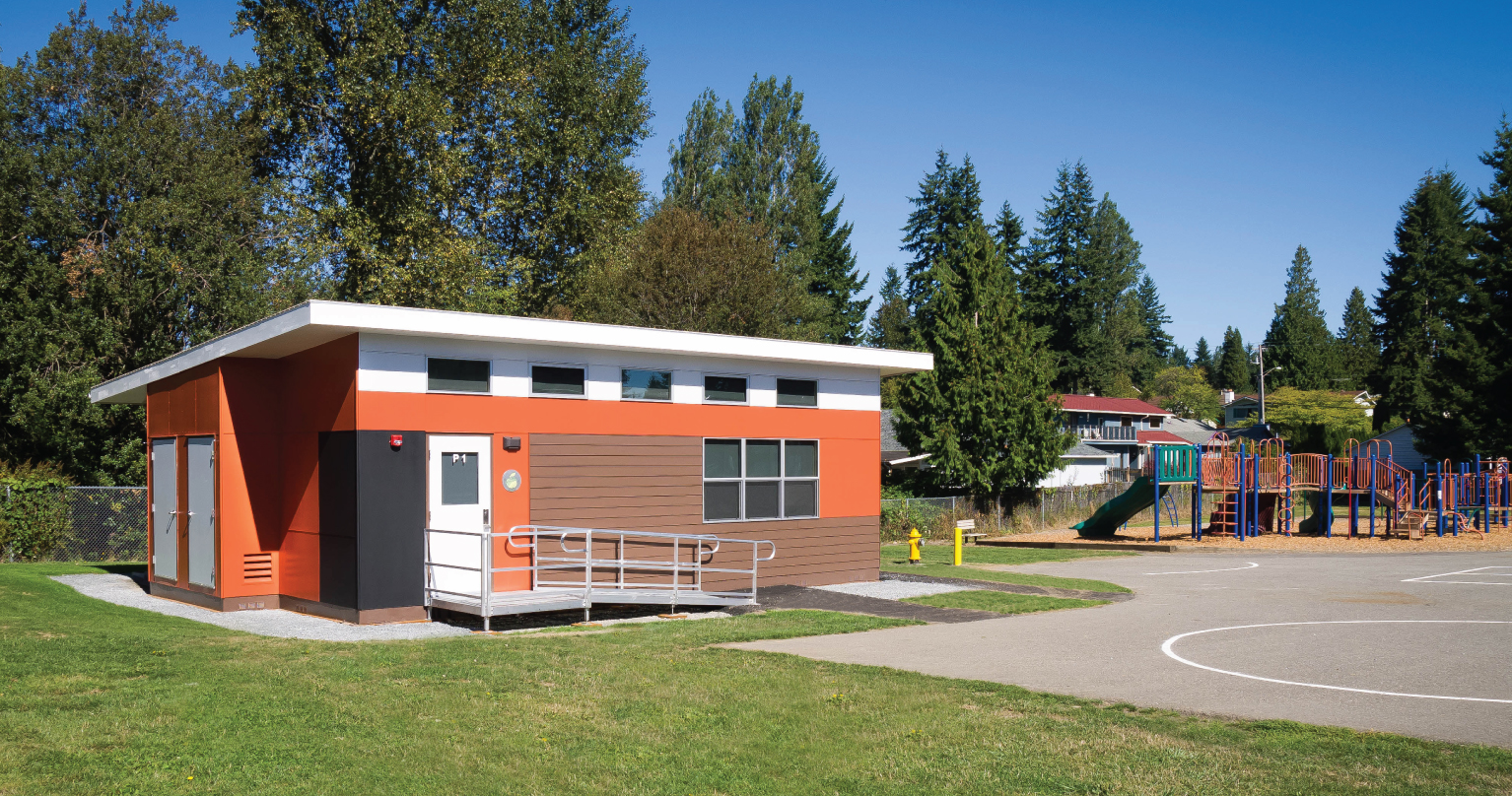 The SAGE (Smart Academic Green Environment) classroom combines the latest thinking in healthy learning environments with the best in green building practices. Faced with shrinking budgets, aging buildings, and fluctuating enrollments, schools and school districts have long turned to portable school buildings to solve their classroom space problems. Recognizing the deficiencies of the available offerings, Pacific Mobile helped pioneer the SAGE classroom in a collaborative effort with Portland State University and our factory partner, Blazer Industries. These resource-efficient modular classrooms improve the learning experience for students and the bottom line for administrators.  
While some districts need additional classrooms, many find they need an entire campus and fast. The SAGE Campus does just that, with speed and ease and at a competitive price point. It is designed on the principle that productive learning environments for students must begin with healthy spaces and materials. It's essential now more than ever.  
The SAGE Alternative:  
Designed for enhanced learning efficiency  

 

High-performing heating, ventilation, and air-conditioning systems 

 
100% fresh air to every classroom 

 

Quality workmanship and quick assembly 

 

Exposed trusses, steel floors, and cork accent walls 

 

Low to no VOC building materials 

 

Glazing, specialty filters, light-enhancing paints, and transparent floor panels for maximum natural daylighting 

 

Option for customization with multipurpose rooms for use as a gymnasium, cafeteria, modular kitchen facility, locker room, and/or restroom

 
If, in your local school district, enrollment numbers are decreasing, schools are using this funding to purchase administrative space for their faculty and staff. In these districts, without the need for additional classroom space, schools have a great opportunity to improve and upgrade other areas of their facilities. This administrative space can help to attract new talent, retain top teachers and staff, and provide a more comfortable and effective working environment for your faculty. 
Pacific Mobile Structures is a licensed general contractor, fully staffed with construction professionals who can turnkey your entire project and deliver the purpose-built, beautifully finished modular office and administration building you need.
Allocate your ESSER Funds to a healthy learning environment in time for the 2023 school year. But hurry! ESSER Funds must be spent or actively committed by their expiration date of September 30th, 2022.  
Get in touch with Patrick to learn more and get started with a SAGE Classroom, SAGE Campus, or administrative building today! Call 360.469.6645 or click the button below to request a quote.