How Portable Classrooms and Modular Campuses Can Ease the Burden of The Post-Pandemic Challenges Facing Today's Schools
Over a decade ago, Pacific Mobile Structures teamed up with Portland State University School of Architecture and Blazer Industries to create a modular classroom that offered a healthier learning environment for teachers and students alike.  
It all started when Portland State University School of Architecture professors, who also happened to be concerned parents, approached Pacific Mobile Structures' President and CEO, Garth Haakenson. They shared that they wanted to build a modular classroom that is healthier for their kids to learn in, is more energy-efficient, and has green qualities.   
It just so happened that this was top-of-mind for Garth as well. After seeing the initial concept of their design, he immediately wanted to get involved and bring such a product to market.  
For three years, Pacific Mobile Structures and the Portland State University School of Architecture worked on a solution that resulted in a clean classroom. They arrived at a final cost-effective, re-locatable classroom alternative that checked all the boxes and called it the Smart Academic Green Environment, otherwise known as the SAGE Classroom.  
The SAGE Classroom: Environmentally sound. Educationally friendly.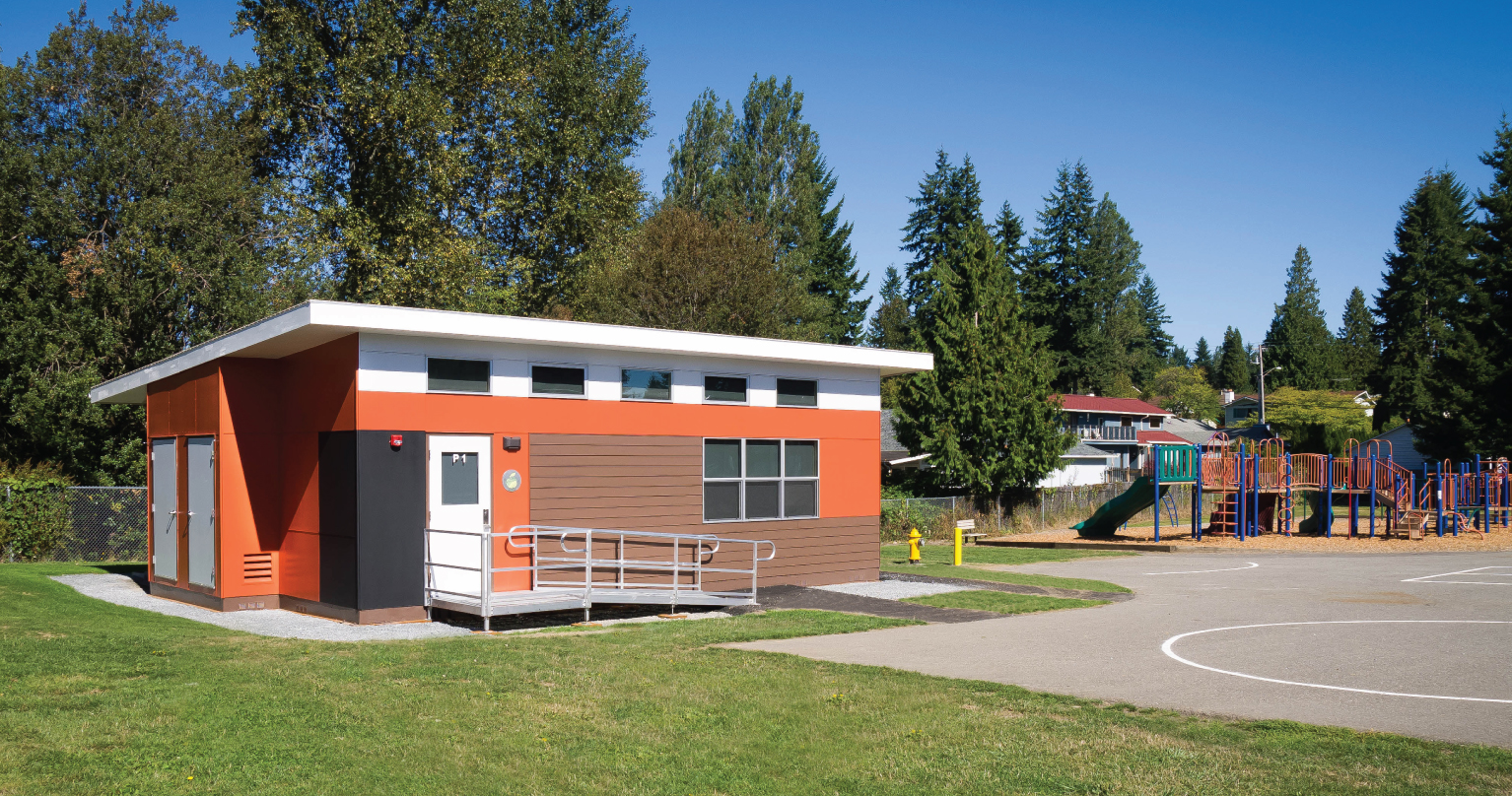 The SAGE Classroom features an ERV System that brings in 100% fresh outside air to eliminate the C02 levels commonly found in a standard modular classroom. Aluminum windows rather than vinyl windows are utilized to avoid the use of materials made with volatile organic compounds which are harmful to both humans and the environment.
The size and number of windows also bring in an abundance of natural daylight. The SAGE Classrooms is 50% more energy-efficient due to the use of a product called BioPCM which, when placed inside the walls, regulates interior temperatures by storing heat when it isn't needed and reradiating it into the room as it cools. 
Today, Pacific Mobile Structures has installed over 150 SAGE classrooms throughout Washington and Oregon. The product has built a reputation for itself as an award-winning, top-of-its-class addition to schools needing additional classroom space. 
Navigating the Needs of Today's Schools
In 2020, school districts across the United States began experiencing extreme uncertainty as the COVID-19 Pandemic ensued. In the beginning, schools had to hold fully remote learning. Then, when the world had a better understanding of the virus, and the number of cases was under control, schools re-opened. What was waiting was an influx of students that overburdened many schools, creating a need for expansion. 
Today, the need for additional classroom space has never been higher to help both public and private schools remain flexible during uncertain times that seem to be here to stay.   
Over the course of the Pandemic, many families have moved across town, across state lines, and even made the move from public schools to private schools. The result is significant fluctuations in enrollment for both public and private schools.  
Suddenly, public schools are not only navigating what it looks like to re-open with social-distancing requirements, but they're also reimagining what it looks like to provide a better learning environment with time-sensitive relief funds now available as a result. 
On the other hand, private schools are inundated with a continuously increasing enrollment as more parents turn to them for a more predictable and stable learning environment for their children during these times. As a result, private schools have an overwhelming need for additional space and even brand-new facilities to replace outdated buildings and create adequate accommodation for their increased student body.  
The SAGE Campus: Graduate to a Better Learning Environment.
While schools have been busy meeting the demands of the unforeseen events of the past few years, Pacific Mobile Structures has been hard at work behind the drawing board with the Portland State University School of Architecture again. This time to create a healthier learning environment throughout an entire campus backed by the benefits of modular construction.   
Built on the award-winning SAGE Classroom, the SAGE Campus offers all the benefits of the original SAGE Classroom across an entire school building and site. It is designed on the principle that productive learning environments for students must begin with healthy spaces and materials.   
The SAGE Campus can exceed today's increased air quality and ventilation requirements in school buildings through its use of a high-performance heating and air-conditioning system paired with energy recovery ventilation. This system is enhanced with passive strategies like operable clerestories, fans, and louvers to provide 100% fresh air to every classroom in the building. It does so while maintaining an acoustically quiet environment and reducing energy usage.  
The SAGE Campus's modular construction ensures both high-quality workmanship and quick assembly, while steel floor systems offer greater longevity. The building materials are also explicitly chosen for their low environmental impact. Lastly, the classroom focuses on natural daylighting by maximizing the amount and placement of glazing, the use of specialty filters and light enhancing paints, and the inclusion of translucent floor panels. Light monitors in all public spaces ensure that not only classrooms but all spaces in the building enjoy the benefits of natural lighting to enhance learning and well-being for all students.  
The two-story SAGE Campus design offers a fast and effective solution to school districts needing additional learning space without sacrificing much-needed infrastructures such as basketball courts and playgrounds.
The SAGE Campus features:  
Design for enhanced learning efficiency 

 

High-performance heating, ventilation, and air-conditioning systems 

 

100% fresh air to every classroom 

 

Quality workmanship and quick assembly 

 

Exposed trusses, steel floors, and cork accent walls 

 

Low- to no-VOC building materials 

 

Glazing, specialty filters, light-enhancing paints, and translucent floor panels for maximum natural daylighting 

 

Option for customization with multipurpose rooms for use as a gymnasium, cafeteria, modular kitchen facility, locker room, and/or restroom

 
Solutions for Uncertain Times
The release of the new SAGE Campus comes at a timely moment. The SAGE Campus alongside the SAGE Classroom empowers public and private schools alike to get the space they need, how they need it, and when they need it without sacrificing quality, comfort, energy efficiency, and a healthy learning environment.  
While public schools may only need an additional classroom here or there and might not have the funds for an entire campus, private schools can significantly benefit from the SAGE Campus. Instead of waiting a few years for a brand new, turnkey school campus with traditional stick-built construction, a SAGE Campus can be onsite and ready to welcome students and staff in 30% to 40% less time.   
With the SAGE Campus, private schools can accommodate their students with urgency while reaping all the benefits of a SAGE product, resulting in a happier, healthier school.  
Interested in a SAGE Campus?
Our sales representatives are only a phone call or email away. They are ready to answer all your questions and go above and beyond to deliver what your school district needs. For more information on our SAGE Campus, click here.