Mobile offices in top condition, workforce-ready
A portable office is more than a temporary facility. It's an extension of your company office and a reflection of how you conduct business. Your people will occupy it for an extended period of time — typically a year or more. Give them the working environment they deserve.

24' x 40' Mobile Office with Restroom
A job site structure is more than a temporary facility. It's an extension of your organization, a reflection of how you conduct your business. That's why Pacific Mobile Structures offers the highest-quality mobile offices on the market. Whether you want to lease a standard mobile office in stock or custom build to suit your needs, we can deliver. With eleven branch offices, we provide mobile office space throughout the Northwest, California, Arizona, and Texas.
Pacific Mobile Structures offers:
• Consistent, high-quality buildings; exceptionally clean and well maintained
• Variety of floor plans and sizes; customized plans available
• Flexible tenant improvements
• In-house service department
• Full-service warranty on all buildings
• Timely delivery
• Hitch is approx. 4' long
• 7' 6" to 8' Ceiling Height
• Built to the State Commercial Building Code
• Exterior Wood Siding
• I-Beam Frame
• Standard Drip Rail Gutters
• Paneled or Vinyl Wrap Gypsum Interior Walls
• Vinyl Tile Floor (commercial grade carpet tiles available upon request)
• Acoustical Sound Dampening Ceiling
Tiles
• Optional Interior Walls Shown (may include additional costs upon request)

• Fluorescent or LED Ceiling Lights
• Electrical Outlets
• Light Switches
• Ducted Heating/Cooling Combination Unit
• Programmable Thermostats

• Plenum Wall for Noise Reduction

• Horizontal Sliding Windows
• Steel Exterior Door w/ Standard Deadbolt Lock
• Theft Prevention Accessories; available upon request. Deadbolt Lock
Renderings, specifications, and floor plans are representational only; products may vary by size, model, location and are subject to in-stock availability.
OFFICE TRAILER ESSENTIALS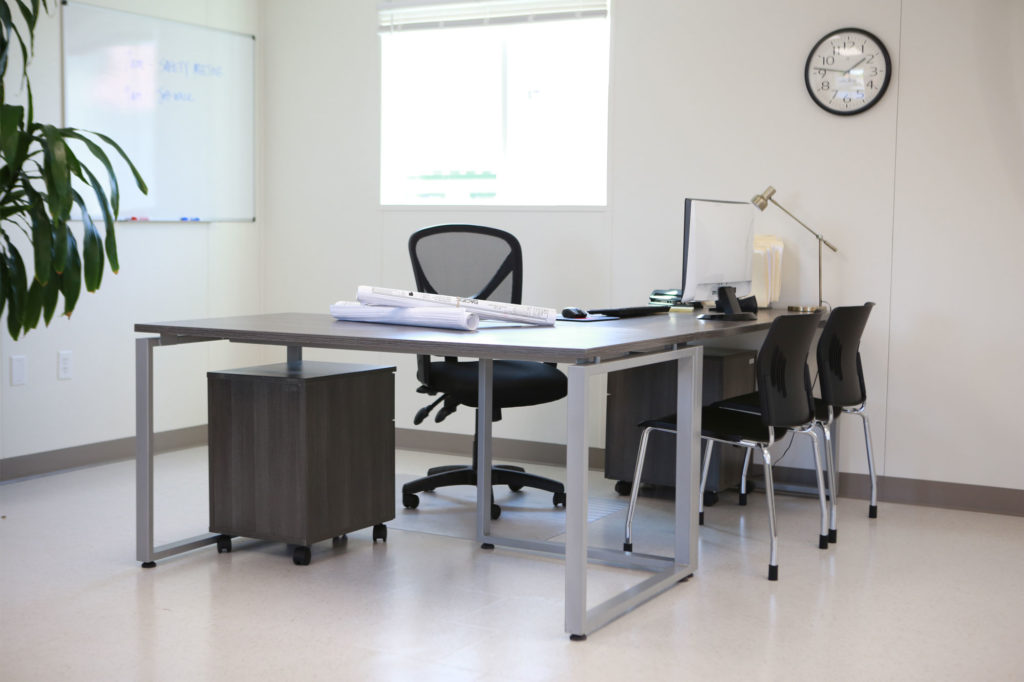 FURNITURE AND ACCESSORIES
Pacific Mobile offers a wide array of furniture, accessories, and security packages for a turnkey building that's ready for you and your team to get to work the moment you step onsite.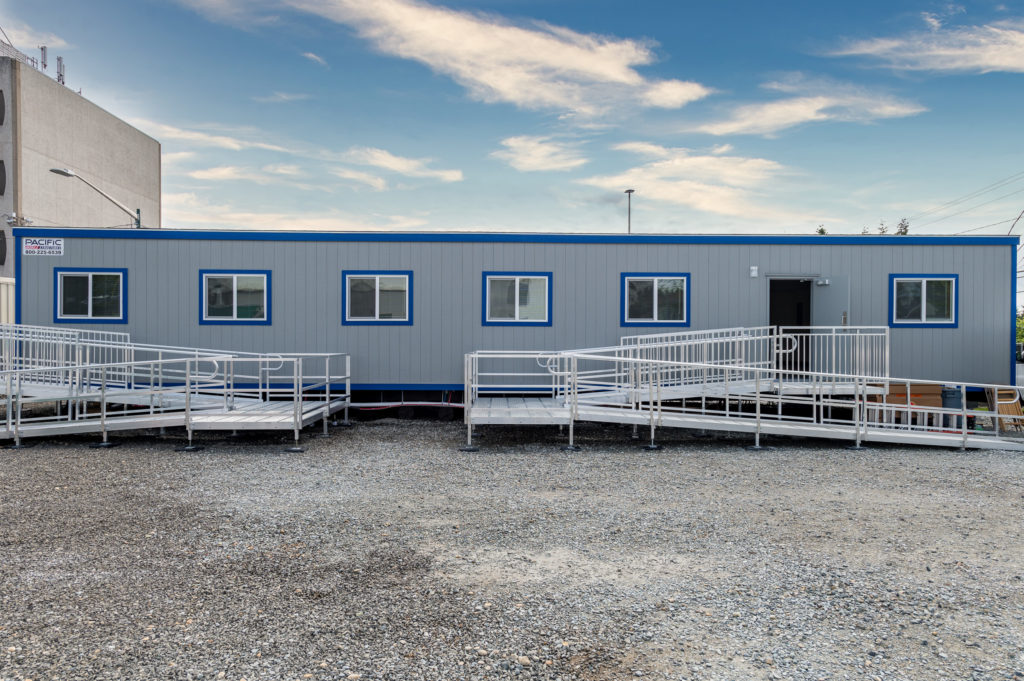 Whether you need a fixed or modular system, including stairs, ladders, platforms, or railings, we can design for any workspace needed and follow OSHA compliance requirements to the letter.
Whether you know exactly what you want or could use some guidance, we're ready to help. You can get in touch with us however you prefer.
GENERAL INQUIRY
Call us toll-free at 800.225.6539 or email
pmsi@pacificmobile.com.
We'll route your message to the individual best able to respond quickly.
QUOTE FORM
Use the
online quote form
and fill it out with as much detail as you have. Someone will be in touch with you by the next business day.